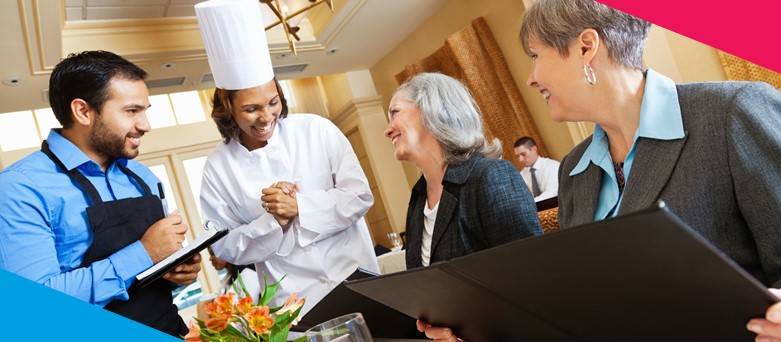 Working in catering can be physically hard work and often means working in a very busy environment. Kitchens can get hot and frantic, dining rooms can sometimes seem like organised chaos, but for the right person a job in the catering industry can be extremely rewarding.
Have you thought about why you would choose a career in hospitality and catering? Here are some reasons why working in the catering sector could be a good job choice for you.
1. You have always enjoyed cooking
If you have a love of food then a Chef career might seem like your ideal job. Working in a professional kitchen will give you the opportunity to do what you love every day. As you work your way up through the ranks, you will have more opportunity to be creative and make people happy with the food that you produce.
2. You like to work as part of a team
If you don't like working alone and enjoy the company of a busy but cohesive team, then a job in the catering sector is an ideal choice. Whether you are a Food Service Assistant, a Kitchen Porter, a Chef or a Waiter/Waitress, everyone in the hospitality industry needs to be able to communicate well and work together, however stressful the service may get!
3. Variety is the spice of life
In hospitality no two days will ever be the same. One of the big draws for working in a catering environment is the variety of the job. If you work in a Chef position then your job will involve various tasks in the kitchen which can vary each day. Working as part of a team in a public sector job means you can never fully predict what will happen on any given shift. Working as a temporary employee in a catering sector job means you can have more flexibility to work different hours to fit around other things in your life such as study or family commitments. You also have the opportunity to take jobs in different workplaces, increasing your knowledge and expertise in the hospitality sector as you take on new tasks and roles.
4. You enjoy meeting new people
Working Front of House in the hospitality industry means you are in direct contact with the general public. If you enjoy meeting new people, interacting with the public and providing them with a service then working as a Waiter/Waitress, Bartender or Barista is a good job to be in.
5. On the job learning
Many people learn better by being hands-on in their work environment and there is lots of scope within the catering industry for training to be done on the job. This can be through your experience in temporary or permanent positions, or more formally as an apprenticeship. If you want to further your career in catering, especially if you want to work up the ranks of being a Chef, it is also beneficial to gain a catering qualification.
There are many NVQs and diplomas available to cover various sectors within hospitality and catering.
If all these reasons resonate with you, then the next step is to get your CV up-to-date and ready for a catering sector job. We have some tailored CV templates which will help you easily create a professional looking CV.
Read Caree's blog for advice on how to use the templates. A good way to find out about the reality of a job before applying, is from the people who already work in the field every day. From reading their stories, you can start to build a picture of what it is really like to work there and if you feel the job would be a good fit for you. We invited some of our temporary employees, who already work in the hospitality and catering sector, to tell us about their experiences. Read their stories below.