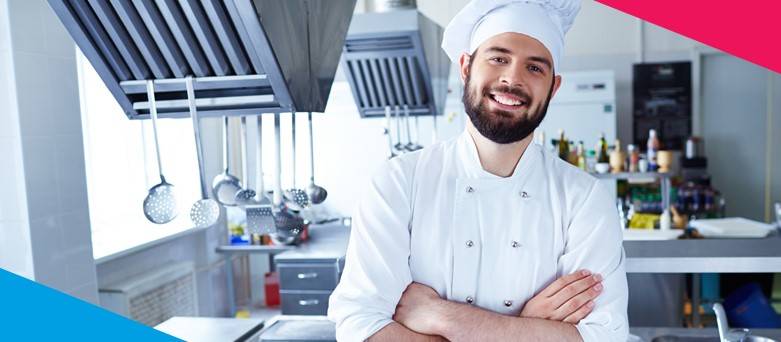 Whether you are just starting out in your culinary career or are an experienced cook looking for your next Chef job, the wide range of catering establishments and the various catering jobs available may initially seem a little overwhelming as you plan the next move in your Chef career.
Eating out is constantly increasing in popularity and we are seeing more and more new restaurants, gastro pubs and bistros popping up around us. So even with over 300,000 Chefs in the UK, Chef jobs are continually in demand and Blue Arrow can help you find your ideal catering job.
With branches across the UK from the south west of England to the tip of Scotland, Blue Arrow recruits for all kinds of chef roles across a wide range of sectors from traditional restaurants and fine dining to school and work canteens.
There are different factors which could affect where you want to work. You may want to stay close to home or perhaps you want to move to a big city. Read here about the best towns to work in hospitality and catering to help you decide where to look for your next job.
If you haven't had any previous training or experience in the culinary world and are thinking about pursuing a career as a Chef, then a temporary job as a Kitchen Porter or Catering Assistant is a good way to get your first taste of working in a commercial kitchen. We recruit for many entry level positions within the hospitality and catering industry. Find out more about
how to become a Kitchen Porter
in our career guide.
There are lots of reasons why people choose to be a Chef. Whether it's their love of food or their enjoyment from making people happy with the meals they create. If you are still in the early stages of thinking about your next career move, find out more about what it means to
work in catering
and be inspired by stories from Blue Arrow catering staff.
If you have just started out on the Chef career ladder then we can help you find temporary positions as a Commis Chef. Taking temporary work across different catering environments will give you a wider range of experience. Having the opportunity to work in a variety of kitchens, each with their own routine, and learning new tips and techniques from experienced Chefs will help in your future career progression. Read our career guide on how to become a Commis Chef.
For those who are already experienced Chefs, Blue Arrow regularly recruits Chefs de Partie, Pastry Chefs, Sous Chefs and Head Chefs in all kinds of placements. Our career guides will inspire you, whichever stage of your culinary career you are at.
There are lots of environments where you can work as a Chef. You could find a job in a top restaurant or hotel, you could go into event catering or you could get a Chef job in a school, hospital or care home. The choice is varied and there are many options available. Each working environment is different. Some may be more fast paced and some will mean long shifts and late nights so it's important to think about what will be best for you. Read more here about Working Environments for Hospitality and Catering.