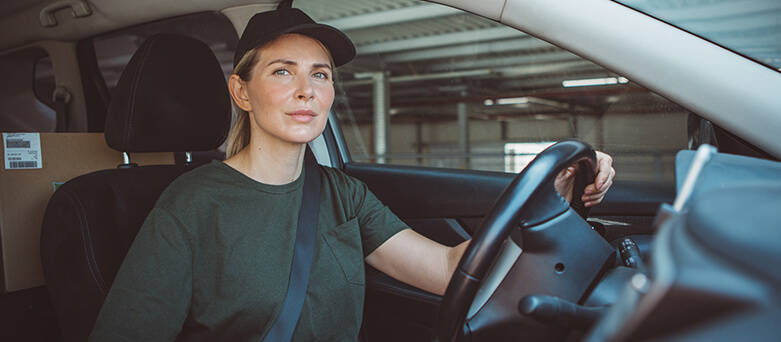 Final Mile Delivery Driver job description
Final Mile Delivery Driver jobs are ideal if you are looking for a driving job where you don't have to venture too far from home. With more and more people ordering online, local van driving jobs have become more prevalent and are a great opportunity for starting your driving career. If you like driving, are happy to work flexible shifts, and enjoy a job where no two days are the same, this could be the role for you.
Being a Final Mile Courier
As the name implies, final mile delivery refers to the closing step of the delivery process from a distribution centre or facility, to the end user. Despite its name, the 'final mile' refers to the last stage of the delivery process rather than the actual distance travelled.
This role often has flexible shift patterns which you can fit around other commitments. On a full-time contract you can expect to work up to 48 hours a week, with day, night and weekends shifts available. At peak times throughout the year there are plenty of overtime opportunities for Final Mile Couriers.
Don't underestimate the joy you can bring when you are delivering parcels to people in their homes. Think of the excitement of the child sat by the mat awaiting the arrival of a new toy; or the happiness an unexpected gift brings to the elderly person living alone. The job of the Delivery Driver is an important one for many.
Being a Final Mile Delivery Courier is more than simply dropping off a few parcels in your spare time. These are professional drivers, part of a network that keeps the UK logistics industry on the move.
Established e-commerce giants, such as Amazon, have perfected their last mile logistics operations and we are now seeing more small and mid-sized businesses taking advantage of this rising market. Implementing Final Mile Courier services for their customers pushes more and more job opportunities onto the job boards. The continuing increase in online shopping and the expectations of customers to receive their purchases faster, means that future prospects for this role are good.
In the past, some Drivers have set up as a private limited company, but the IR35 reform, which was introduced on 6th April 2021, will mean both these Drivers and the end clients will have to pay more tax. This could see more businesses employing Drivers directly or through employment agencies.
You will gain a heap of experience as a Final Mile Courier. Logistical planning, geographical knowledge and basic mechanics are an important part of the job and will really help if you want to pursue a career in driving jobs. You will also gain important customer service and communication skills that can be invaluable for so many other roles.
To find out what it is like to be out on the road delivering parcels every day, check out this interview with Multi-drop Delivery Driver, Stephen.
Is a Final Mile Courier job a good fit for you?
Final Mile Delivery Driver jobs are perfect if you are looking for a varied workday, don't mind early starts and are looking for a driving job where you don't have to stay away from home overnight. Your day could look something like this:
Pick up parcels from the warehouse, shop or collection point.
Organise and load your van.
Plan your best route, avoiding any traffic incidents or roadworks.
Deliver the goods to the customer.
Maintain up-to-date delivery and collection records.
Record hours and mileage.
Return to base or, move on to the next drop-off location.
Are you a good fit for a Final Mile Courier job?
Having a passion for driving will make this job easier. You may find yourself queuing in traffic, so a positive attitude is a great asset as well as the ability to remain calm in stressful situations.
As a Final Mile Delivery Driver, you need to work independently, but you are stillproviding a customer service and will use your people skills to say hello and smile as you drop off a parcel.
The nature of Final Mile Delivery Driver jobs means that you need to be self-motivated as well as physically fit and able to lift and carry packages that can sometimes be quite heavy.
Other attributes for this role include;
Good communication skills.
Qualifications, Licences and Certifications
Necessary
To work as a Final Mile Delivery Driver, you need to have a full UK-issued driving licence for Category B vehicles, which includes cars and light vans weighing up to 3.5 tonnes.
Van driving jobs
Will require you to deal with all kinds of driving conditions dependent on weather, road type and location. It is important that you have the right licence and experience to be able to cope with these to deliver parcels safely and efficiently.
Desirable
Whilst not usually necessary, it is helpful to also have the following qualifications and/or experience:
GCSE in English and Maths
Experience working in transport and logistics e.g. warehouses or distribution centres
Experience driving in a professional capacity.
If you are unsure you have the relevant experience or confidence for a driving job just yet or want to take your driving skills to a higher level, you could embark on a professional driving course
Where can a Final Mile Delivery Driver job take you?
Having professional driving experience on your CV is invaluable if you wish to continue in your driving career. You could progress through commercial driving licences to become a Heavy Goods Vehicle (HGV) Driver, travelling far and wide. To find out more about the commercial driving licences and how you can train, click here.
Alternatively, you could consider progressing through the warehouse route. Your experience as a Delivery Driver means you will have some industry knowledge and you could be working in the loading bay, preparing fleets of vehicles and drivers for delivery routes all over the country.
So, if you want to shift gear in your career then get in the driving seat and consider a job as a Final Mile Delivery Courier.
What next?
Visit our Driving Jobs page to keep a lookout for new opportunities or visit us on Facebook for latest updates.
For more career advice, tips and guides click here.
Stay up to date with the latest industry news, information, tips, tricks, jobs and advice by subscribing to our newsletter and click here to keep up to date with our blog.