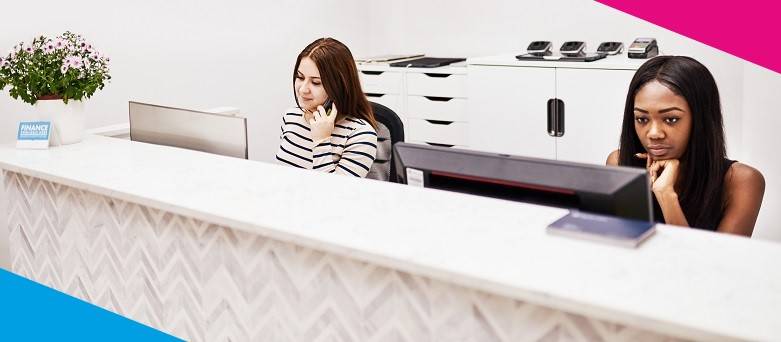 Receptionist jobs ensure that you are on the front line of any business, happy, smiling and confident in your ability to help each and every person that crosses your path.
As a Receptionist you can take great pride in being the first great impression that a visitor gets when they enter your place of work. Your customer service skills need to be on top form and you need to be adept at anticipating needs and communicating clear instructions.
A Receptionist job description will invariably include the following responsibilities:
Greeting visitors and answering enquiries.
Answering the telephone and directing calls.
Organising and maintaining the reception area.
Take guests to meeting or waiting rooms.
Managing diaries and meeting rooms appointments. Organising and scheduling meeting facilities.
Liaising with other departments.
Sorting post, accepting external mail and parcels, recording deliveries.
From business to business the Receptionist job description and the duties it includes may vary, for example if you are a Receptionist in a corporate office you will find that signing in and escorting visitors is a part of your role, whereas if you are a Receptionist in a hotel you will be processing bookings and perhaps assisting guests with travel arrangements. No matter what industry you find yourself in, you can rest assured that your Receptionist job will provide you with all the skills and knowledge you need to enjoy a long career in the office and administration sector if that is what you choose.
What can I earn as a Receptionist?
The average salary for a Receptionist for a 40 hour working week is around £9.70 per hour / £20,170 per year.
Receptionist jobs are great entry level roles to kick off your career. Many of the basic skills you learn as a Receptionist will be transferrable across many industries and into roles such as Administrator or Call Centre/Customer Service.
What does it take to be a Receptionist?
Having a positive and happy outlook.
Being friendly and eager to help.
Acquiring good listening and problem-solving skills.
Being organised and methodical.
Obtaining exceptional communication and customer service skills.
Being Computer literate.
Having the ability to work without supervision.
We at Blue Arrow specialise in recruiting and placing the very best office job seekers into Receptionist jobs across the country.
Our specialist Office branches are on hand to recruit and support our office community with Receptionist jobs for current and future career prospects, check out our available roles below and apply online or contact a branch to register with us.