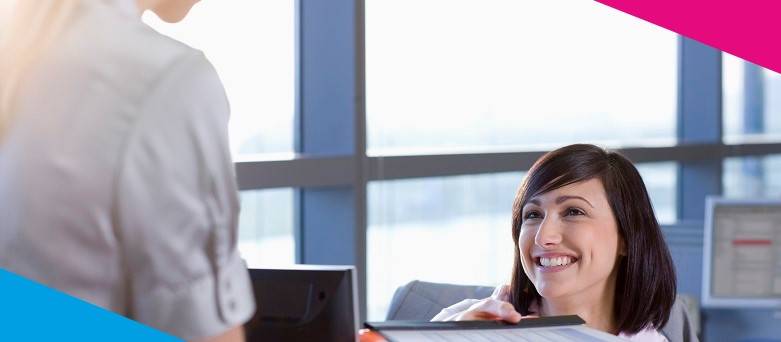 Whether you are thinking about office careers or an office admin career path, when you are trying to decide on your future career, the path that you take is one of the main priorities. Asking yourself questions such as; is there enough scope in the role for skill development, where can it take you, what could you earn during your career and when you reach the top of your game?
From Receptionists to Administrators and Data Entry Clerks to Customer Service Advisors, office careers are without a doubt one of the most robust careers you can choose. With transferrable skills, varied duties and responsibilities, excellent rates of pay, far reaching connections and common positions that are needed no matter what the sector might be, an office admin career path is an excellent choice.
What is the career path for a Receptionist?
Whether you are greeting customers in a small beauty salon or high-flying Executives in a corporate office, every Receptionist has to start somewhere. If you can demonstrate that you are good with customers, polite, have a smart and clean appearance and that you can problem solve when required you should find it a breeze to land your first entry level Receptionist role.
Once you have successfully got a position as a Receptionist you need to start building up your skill base, learn as much as you can across a variety of tasks. Get stuck into the office software and learn how to use it quickly and accurately, carefully craft your customer service skills and perfect your telephone manner because it is these skills that will become the basis of your office admin career path.
Starting out as a Receptionist your career path has many possible routes. You could move into Administration, Customer Service, Personal Assistance or even Branch Management if you have your sights set on the top spot.
What is the career path for an Administrator?
Office careers often start with an Administrative Assistant or an Administrator job, it is a role that you can find yourself doing as a temporary position and falling in love with due to its varied and fast paced nature.
You will gain skills galore in admin, one moment you are typing customer details into a system and another you might find yourself supporting a team project, what starts as a customer enquiry may turn into an investigative task as you try to place together pieces of a puzzle. It is these skills and so many more that are excellent for your office admin career path.
Looking to a career beyond an Administrative Assistant or Administrator, there are plenty of options. With experience and some specialist sector knowledge you could soon be accepting an a more senior level such as a Senior Administrator position. Or with your experience explore industry specific Administration position as a Legal Clerk, a Financial Assistant, a Medical Administrator or even an Office Manager.
What is the career path for a PA?
Tech savvy, organised, proactive problem-solving Personal Assistants and their office careers are a match made in heaven. If you can effortlessly multitask, retain a heap of information and important dates all the while having a knack for anticipating the needs of whomever you are working for then your future is extremely bright.
Reach for the stars and be an on set Personal Assistant to your favourite celebrity or the next new hottest musician. Be part of the supportive team behind a Government official or the one person that a hot shot CEO can rely upon to get things done, it is not possible to consider the office admin career path of a Personal Assistant can be incredibly exciting.
What is the career path for a Customer Service representative?
Office careers that stem from your natural ability to connect with people, to listen and empathise, to instruct and to challenge with confidence and kindness are careers that are right up there as some of the most rewarding.
Being in Customer Service whether it is at entry level just starting out manning the phones in a Call Centre, or as a seasoned professional heading up a team of Advisors, if you know that providing an exceptional service to customers is what makes you tick then you have a wonderful career ahead of you.
Work your way up through the ranks of a Call Centre from Advisor to Team Leader, onto Supervisor and maybe even on to Team Trainer. Alternatively take a step to one side and try your hand at meet and greet services in the hospitality trade.
With a heap of experience and some sound knowledge and training to back up your ideas, instead of breaking the mould of Customer Service why not try your hand at creating the perfect customer service model in a Consultancy position, advising businesses on how they could perfect their customer service offering.
What are my career options in Data Entry?
The career options surrounding data entry are quite wide and far reaching provided you put the work in and take the time to absorb the industry information that you are interested in.
Office careers and data entry are not always immediately connected as a possibility however if you consider for a moment the skills and precision that goes into a Data Entry role, you will soon start to see how a background in data entry becomes an extremely valuable asset to many employers.
Touch typing, fast reading, accurate fault finding and efficient working practices are all skills that can transfer in to any other job in any industry. But if you have your sights set on one industry in particular then it is a good idea to be as well read and researched into the sector as you possibly can be so when you are transcribing, carrying over information or fault finding within the text, it becomes that much easier if you understand what it is that you are reading.
Specialist Data Entry positions are popular stepping stones for an office career born from a job as a Data Entry Clerk. Medical, Financial and Legal are all popular choices but do consider that many other companies require the day to day services of an experienced Data Entry Clerk so do think out of the box a little when choosing your next step.
Our specialist office branches are on hand to recruit and support our office community with office jobs for current and future career prospects, check out our available roles below and apply online or contact a branch to register with us.