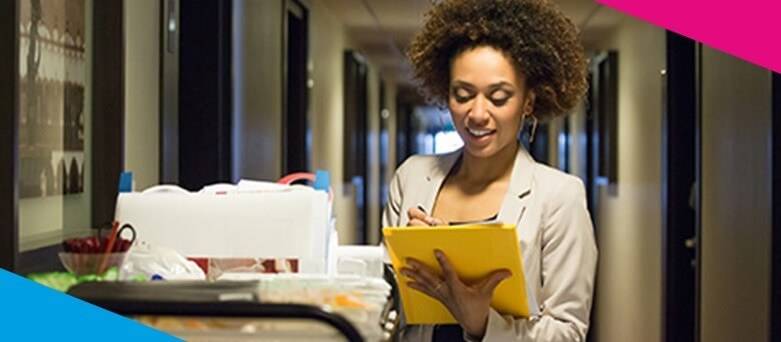 Cleaner Jobs - Cleaning Supervisor Job Description
A Cleaning Supervisor role is a rewarding, flexible choice, that can fit around your home life. If you're an experienced Cleaner, having worked in a cleaner job for two or more years, and you want to take a step up, a Cleaning Supervisor job might be a great choice for you.
Being a Cleaning Supervisor
As a Cleaning Supervisor, the flexibility in shift patterns can fit around your family, and other commitments. Having access to a range of assignments and shifts can be beneficial to your needs outside of work.
This role could be a way into a particular sector you want to pursue. Or, if you want to consider a Supervisor role in another department, this could be a good footing into the right company to develop your key skills.
A Cleaning Supervisor role could be a great fit for you if you are in a temporary role, and are looking an opportunity for ongoing cleaning shifts within a company where you can grow and be rewarded for your loyalty and hard work. This type of role can provide you with a greater flexibility in shift patterns within a range of working environments.

As a Cleaning Supervisor you could find yourself working alone, supervising one or two cleaners, or even leading a team. Thus, giving you the chance to develop your key leadership skills and the possibility of gaining customer facing experience.
Roles and responsibilities
Your day-to-day duties as a Cleaning Supervisor could vary depending on the environment and the team with whom you are working.
In general, Cleaning Supervisor duties will include carrying out deep cleaning and detailed cleaning tasks where needed. The ability to carrying out regular inspections of all areas to ensure a high quality of cleaning standards are maintained, and also monitoring quantities of cleaning products and equipment, noting where replenishment is needed.
As a supervisor of others, you will need to prepare cleaning schedules, and distribute and allocate duties to your team. Your role will include the management of all cleaners, preparing and managing staff rotas, as well as managing holidays and sickness. It is essential that you ensure the safety of all staff and their compliance with any relevant health and safety regulations.
Are you a good fit for a Cleaning Supervisor job?
As a Cleaning Supervisor you will need to be organised, diligent, trustworthy and capable of managing your own workload and that of others. In addition, motivating and leading a team to achieve the highest standards will help you to succeed.
There are many other traits that would make you a good fit for this role:
A methodical approach to cleaning that is organised, efficient and thorough.
The ability to work well independently, and lead a team.
Good interpersonal and excellent communication skills.
A positive and approachable manner.
Good numeracy and literacy.
An excellent eye for detail.
Physical abilities, including being able to work on your feet for long periods of time, as the job may involve lifting, reaching and bending.
Adaptability to change and a willingness to adopt new processes and ideas.
The ability to deliver quality work and to work unsupervised.
A thorough knowledge of Control of Substances Hazardous to Health (COSHH) regulations relating to the role.
Qualifications, Licences and Certifications
We are now more aware than ever, that high levels of cleanliness are needed to keep us safe from the potential outbreak of a life-threatening virus, such as COVID-19. This makes the role of a Cleaner Supervisor an essential frontline service of great importance.
To become a Supervisor within the cleaning sector, you will require two years previous experience as a Cleaner in a variety of settings and previous experience of managing or working with a team. Having good interpersonal and communication skills and being fluent in the English language is also essential.
You will need to have had experience of using cleaning equipment and tools such as floor and carpet cleaners, buffers and polishers and the ability to implement and adhere to strict standards and procedures. Excellent cleaning practices to avoid cross-contamination are also needed.
Your employer would be responsible for your training and risk assessments, therefore previous knowledge of Health and Safety, COSHH (Control of Substances Hazardous to Health) and Manual Handling is sufficient.
It is desirable to have a British Institute of Cleaning Science (BICs) Licence to Practice, or BICs skills training.
Having a Disclosure and Barring Service (DBS) check and clearance could be beneficial in some sectors, however, your employer would most likely carry these checks out when required
.If you want to develop your own skills, you could enrol on a training course such as this online learning provided by the Federation of Master Cleaners.
Where can a Cleaner Job take you?
Once you have gained some experience as a Cleaning Supervisor, your next steps could be to hone your skills further and be open to opportunities in different environments, for example, as a domestic cleaner in a high-profile home, or cleaning in a contaminant-controlled environment, such as a critical clinical setting or research facility.
Or you could take the next step up to become a Cleaning Manager, in charge of a larger team across multiple sites. With an additional qualification from BIC's, you could become a Certified Trainer or Assessor.
If becoming a Cleaning Supervisor sounds like the right fit for you, this could lead to a rewarding role within a company that gives you the opportunity to grow and manage your own cleaning team.
Next steps
Visit our Facilities Jobs area to keep a look out for new opportunities.
Visit our Facebook page and here for Careers Advice.
For information, tips, tricks, jobs and advice, subscribe to our newsletter, and click here to keep up-to-date with our blog.