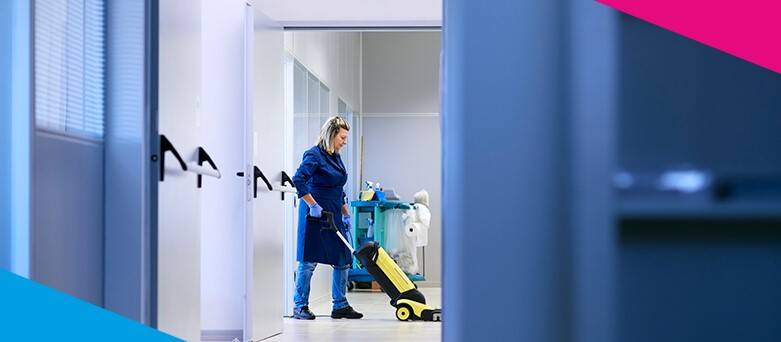 Are you looking for a new Cleaner job or maybe you're considering a cleaning role for the first time? Simply searching for 'recruitment agencies near me' might not be enough to find the perfect opportunity.
For job satisfaction, employment longevity and overall wellbeing, it is important that this type of work is a good fit for you and that you are a good fit for it.
Explore our detailed Cleaner job description below to provide you with valuable insights into this role, including some that you may not have considered before.
Being a Cleaner
Cleaners provide a crucial service during this pandemic, delivering essential amenities during a truly challenging time. This was experienced at the start of the pandemic during March 2020, Blue Arrow worked with world leading international support services and construction company Interserve Support Services, to recruit a cleaning workforce of 400 people for the NHS Nightingale Hospital North West in Manchester.
Showing immense solidarity and support for the NHS, local catering staff, who had lost their jobs due the pandemic, were keen to support the hospital as cleaners while the UK hospitality sector was shut. This is a prime example of people from other professions moving into a cleaning role that they may not have considered before.
A cleaning role could be a great fit if you are looking for a range of different working environments or a temporary role with flexible shift patterns. Fitting in around your family, study, or other commitments, enabling a good work life balance, this role can offer you consistent shift patterns and regular hours. A stable cleaning role gives you the opportunity to grow with a company and be rewarded for your loyalty and hard work.
Cleaning can offer you the chance to be a part of a close-knit team, as well as a lone worker with your own areas of responsibility. Being a Cleaner is a great way to meet new people and make a big difference to someone's workplace or home through your hard work.
Is a Cleaner job a good fit for you?
As a Cleaner you will be expected to work across a wide variety of workplace environments, including offices, schools, hospitals, hotels, restaurants, conference centres, cinemas, or stadiums.
To help you decide if being a Cleaner is a good fit for you, we have detailed what to expect from your day-to-day duties. You will need to clean, stock and supply designated facility areas. Cleaning will include dusting, polishing, sweeping, vacuuming, mopping, sanitising contact areas and emptying bins.
You must be able to carry out deep cleaning and thorough cleaning tasks, and you will also need to notify management of any deficiencies or required repairs in your designated areas.
It will be your responsibility to monitor the cleaning products and equipment needed for your area. You may need to restock and maintain supply rooms and keep the stock cupboards organised, so you and your colleagues can easily find the items needed to carry out your role.
Dependent on the work environment you're assigned to, you may also need to change bed sheets and towels or replenish items for customers. Your attention to detail and the pride you take in your work can make all the difference the cleanliness of that environment.
Are you a good fit for a Cleaner Job?
As a successful and trustworthy solo Cleaner, or member of a cleaning crew, you will need to have excellent attention to detail, a desire to help others and a passion for cleanliness and order.
There are many traits that could make you a good fit for this role:
A good knowledge and understanding of Control of Substances Hazardous to Health

(COSHH) and Manual Handling,

relating to your role.

A keen eye for detail
The ability to work well independently,

and as part of a team.

A methodical approach to cleaning that is both thorough and efficient.
Self-motivation and being able

to work as part of a team.

Good organisational skills.
Good interpersonal and communication skills.
Good level of physical abilities, as the job may involve lifting, reaching, and bending,

and all other movements associated with cleaning activities.

You'll need to be able to work on your feet for long periods of time.
Basic numeracy and literacy.
Adaptability to change and willingness to embrace new ideas and processes.
Ability to work unsupervised and deliver high quality work.
A positive and approachable manner.
Qualifications, Licences and Certifications
The role of a Cleaner is recognised as being of great importance, especially in our post COVID lives, as high levels of cleanliness are essential to keeping us all safe from potentially life-threatening viruses.
Although there are no specific qualifications required to become a Cleaner, a good understanding of the Control of Substances Hazardous to Health (COSHH) Regulations 2002 is required. An understanding of manual handling, and good cleaning practices to avoid cross-contamination is also important.
Within your health and Safety responsibilities, you are charged with protecting people as is reasonably practical, especially from incidents that have the potential to cause real harm. For example, you will need to pay particular attention to spillages, so they are cleaned up promptly and people do not slip, and that all cupboard drawers/doors are kept closed, to reduce trip hazards.
When applying for a cleaning job, previous experience as a Cleaner is beneficial, as is any experience gained in a similar role, or through your hobbies or volunteering, where the main duties and responsibilities are comparable.
Where can a Cleaner Job take you?
Becoming an experienced and highly regarded Cleaner can lead to further opportunities in critical clinical research settings or contaminant-controlled environments, where the role is essential. You may wish to hone skills and become a Cleaner in a high-profile setting, such as a celebrity family home, the Ministry of Defence (MOD) or a famous hotel and spa.
Working as a Cleaner can also be a way-in to a sector that you wish to work in. For example, if you're looking to work as a Carer, you could start off as a Cleaner in a care home and progress from there. Or perhaps you're already an experienced Cleaner looking for the next step up, then a Cleaning Supervisor role could be the ideal fit for you.
What next?
Visit our Facilities Jobs to keep a lookout for new opportunities or visit our Facebook page for latest updates.
Click here for Cleaner Jobs careers advice or for help with a CV Template.
Stay up to date with the latest industry news, information, tips, tricks, jobs and advice by subscribing to our newsletter, and click here to keep up to date with our blog.