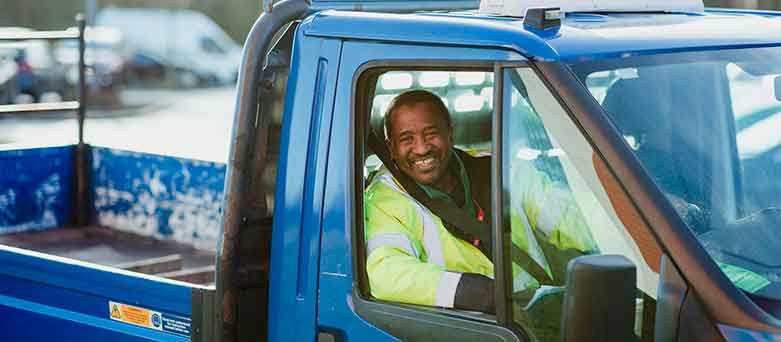 Driving jobs terminology and jargon buster
There are many different terms and jargon used within the driving sector that it can feel confusing at times. When applying for any driving jobs, refer to this essential jargon busting guide, so you know a moffett from a high cube and a Category B from a Category C licence.
Fun fact: In 1911, the first printed record of the word "lorry" was used to describe a 'large motor vehicle used to carry cargo'.
The terms 'large goods vehicle', 'lorry', and 'truck' can be used to describe the same vehicle, but if you are planning on becoming a trucker or delivery van driver, there is a lot of jargon you will need to know before starting your new role.
Terminology explained
Here is our guide to the driving related terminology that you are likely to find in driving job descriptions, such as different driving licence categories, acronyms, and vehicle types.
Terms and acronyms
ADR – European Agreement Concerning the International Carriage of Dangerous Goods by Road. To transport hazardous materials by road, an ADR licence is needed.
Back load – a load that is transported on a return journey.
Box – a trailer with rigid sides and top which can only be accessed through the back doors.
Cab – the driver's compartment within a truck.
Chassis – a set of wheels on a lightweight frame.
Chilled distribution – transporting goods using temperature-controlled vehicles, usually used for chilled food or beverages.
Container – a sealed, reusable metal box in which merchandise can be moved by truck. Different types of containers include high cube, hardtop, open top, standard, flatbed, bulk and refrigerated.
CPC Qualification – the Driver Certificate of Professional Competence is the standard licence needed in order to drive a LGV on UK roads.
Curtain-slider lorry – rigid roof and rear doors, with PVC curtains either side which are drawn back for easy loading.
DA Course – training on subjects specific to the needs of newly-qualified Drivers.
Dangerous goods – hazardous items which hauliers require a special licence to carry.
Dock – the name given to the platform where lorries are loaded and unloaded.
Draw bar – the solid coupling between the vehicle and the load it is towing.
Drivers' working hours – term referring to the regulations that govern the activities of Drivers.
Driver and Vehicle Licensing Agency (DVLA) – they maintain the registration and licensing of Drivers and vehicles in Great Britain.
Driver and Vehicle Standards Agency (DVSA) – all garages must be DVSA approved to carry out MOT and vehicle testing.
Empty running – a truck travelling without any goods on board.
ETA – estimated time of arrival.
Flatbed – mainly used for transporting oversized shipments, consisting of a level bed platform with no sides or top.
Forklift truck (FLT) – machine used to pick up and move goods that are loaded on pallets.
FTL – full truck load.
GIT – goods in transit.
Grandfather Rights – an exemption that means the Driver doesn't have to take the CPC Qualification because they passed their driving test before a certain date.
Haulage – the process of moving goods in a truck, lorry, or van to different locations.
Haulier – the person or company responsible for moving goods by road.
Heavy load – an abnormally heavy load that requires special equipment to transport it, often needing extra services such as a convoy or road closures.
Hiab – a lorry or truck that has a small crane attached. The acronym comes from the original Swedish manufacturer of these vehicles, Hydrauliska Industri AB.
High cube – a container or trailer which allows above average cubic capacity.
LGV / HGV – large or heavy goods vehicle. Used to describe Category C or Category C1 vehicles. Under the UK law, LGV and HGV licences are the same.
Moffett truck – a truck or lorry that has a forklift attached to it.
Rigid – used to describe a trailer which is fixed to the cab and cannot be moved independently.
Sprinter – a large van used for multiple deliveries of smaller loads.
Trunking – a term used to describe the route a Driver is taking to make regular deliveries without an overnight stop and by travelling on trunk roads, such as dual carriageways and motorways.
If you want to learn more driving terminology, we recommend this A-Z glossary.
Category B – is the category given to the main car driving licence in the UK. It allows you to drive vehicles up to 3,500kg or 3.5 tonne on public roads.
Category C1 – is a specific truck/van licence which allows you to drive a LGV weighing up to 7,500kg or 7.5 tonne.
Category C – is a licence which allows you to drive vehicles with a rigid body weighing over 7,500kg or 7.5 tonne, with a trailer weighing up to 750kg.
Category C+E – is a licence which allows you to drive an articulated vehicle weighing in excess of 7,500kg or 7.5 tonne, with trailers weighing more than750kg.
Vehicle types
Articulated / Artic Truck or Lorry – the front cab (C) is connected to the separate rear trailer (E) via an airline, allowing for articulated movement. This is also referred to as a C+E.
Dustcart – vehicle used for household refuse collection.
Emergency vehicle – these include ambulances and fire engines, and emergency response driver training

is required.

Haulage vehicle – used to transport goods by road, including artic, low-loader and curtain-slider lorries, box, tilt, and flatbed trailers.
Hazardous material (hazmat) vehicle – is used by emergency services to respond to incidents involving potentially hazardous materials. They are also used to transport any hazardous materials, such as explosives, gases, or flammable and combustible liquids.
Removal lorry – used to transport furniture and possessions when people move house.
Tanker truck – used to carry a wide range of liquids or gases, including milk, water, fuel, and oil.
Transportation vehicle – used to transport goods or people, these include airplanes, automobiles, motorcycles, vans, trucks, lorries, buses, trains, boats, and ships.
Fun fact: The first transport lorries in Britain were low-loading trollies, pulled by a horse-drawn vehicle to carry large loads or a freight carrying rail car.
Driving jobs explained
There are various driving job classifications and it's important that you know the difference between them before applying for roles.
Delivery Multi Drop Driver

– delivers to more than one location per day. To be efficient, needs to prioritise urgent deliveries, route plan, and load van accordingly.

Final Mile Driver

– delivers locally, completing the goods transportation cycle by completing the final stage in the delivery process.

Class 1 Driver

– drives a Category C+E vehicle known as an articulated lorry. To transport goods, these Drivers must be qualified to operate a truck or lorry over 3,500kg or 3.5 tonne. Generally, Class 1 Drivers do long-haul transportation of goods.

Class 2 Driver

– drives a Category C vehicle, which are rigid bodied lorries, including fire engines and refuse trucks. Class 2 Drivers usually transport goods around cities and towns.

7.5 tonne Driver – must pass the C1 test to be able to transport goods in a C1 rigid vehicle weighing up to 7.5 tonnes with a trailer weighing up to 750kg.
Reach Forklift Truck Driver

– also known as a FLT Driver. Usually moves goods and materials within a warehouse. Must complete the FLT training before applying for these jobs.

Counterbalance Forklift Truck Driver

– similar to an FLT Driver, but also works outside and on uneven surfaces, which requires specialist training.

Long Haul Driver – must cover large distances delivering goods and cargo. One delivery can take days or even weeks to complete. Journeys between the UK and the rest of Europe are likely.
Short Haul Driver – delivers goods across counties, not countries, often carrying retail goods or working as a removal's driver.
Night Driver – works overnight delivering goods.
Driver's Mate – travels with a LGV Driver, helping to load and unload goods. May also need to carry out minor repairs and assist with cleaning the vehicle.
Hopefully, you now feel confident enough to apply for the driving jobs that suit you. At Blue Arrow we have temporary and permanent jobs available throughout the UK, and we specialise in helping people progress their driving careers.
Where next?
If you are interested in getting a driving job but don't have the qualifications needed, try this LGV Training Company or this Professional Driver Training.
Visit our Driving Jobs page to keep a lookout for new opportunities or visit us on Facebook for latest updates.
For more career advice, tips and guides click here.
Stay up to date with the latest industry news, information, tips, tricks, jobs and advice by subscribing to our newsletter and click here to keep up to date with our blog.