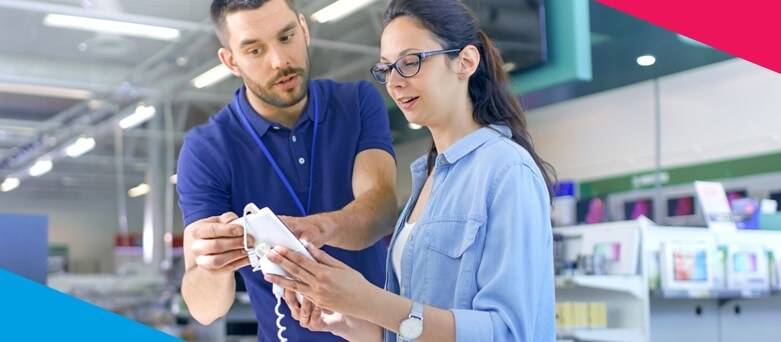 How to become a Sales Advisor?
Overview
| | |
| --- | --- |
| Job Role | Sales Advisor |
| Responsibilities | Assisting customers, arranging refunds and exchanges, serving customers at the till. |
What do I need to do to become a Sales Advisor?
With rarely a dull moment and no two days the same, working as a sales advisor can be an exciting entry-level role or part-time job. And there are many different types of retail businesses where you could work.
Any shop that's open to the public needs hard-working and reliable people to serve its customers, so there are plenty of opportunities out there. This means you could try to find somewhere where you are interested in the products being sold. Hopefully this will make your day more interesting and make you better equipped to advise the customers.
Pay and number of hours can vary greatly depending on the business, location and your experience. Your hours could vary week-to-week depending on how busy it is, and you may be offered flexible hours. If you're full-time you may be offered a salary, which comes with added benefits of annual leave and sick pay.
Your day-to-day tasks will often involve serving customers at the till, arranging refunds or exchanges, tidying the shop floor and assisting customers. In the back of the shop, you may also be accepting deliveries of new stock, organising stock and ensuring everywhere is clean and tidy.
With no formal qualifications or experience often required, this is a great entry-level job if you've just left school. But you'll have to impress a potential employer before they offer you the job. Whether you've recently finished with education or need to earn some cash while you do further study, you should find that hours can be flexible and tailored to suit your situation. This is especially true for larger stores that are open for more hours, like supermarkets.
Good communication skills are highly valued in this role. You'll need them when interacting with customers, your manager and colleagues. This includes being able to understand and respond in an appropriate way. The ability to deal with difficult or upset customers will also be useful. If you've never handled tricky situations at work before, you could ask your manager for some advice when you start the job. It is always helpful to think about being in the customer's situation and think what you would want to hear. Simply listening to their concerns and seeing how you can help them is a good place to start.
Numeracy skills and the ability to follow shop procedures shown to you by your manager or supervisor are also important. There will be systems in place for certain tasks and it's important that you're able to follow instructions carefully. Using the till and taking payments will be shown to you, but basic knowledge of numbers and mathematics will be required.
As there are no formal qualifications required for this role, any experience that you have of working with customers will be a bonus to your application. Be sure to highlight this on your CV and when talking to a potential employer in an interview. Being able to show that you work well in a team and any examples of leadership skills will also add to your application.
Job vacancies for sales advisors are often advertised online on specialised jobs boards, or a company's career page on their websites. And you may find that some places, especially small independent shops, will still put a notice up in the front window if they're looking for staff. If you can, it's a good idea to go with your CV in person and speak to a manager. If the job advert is online, or you live far away, you'll need to respond in the way it asks. This might be sending an email, making a phone call or completing an online application.
If you're successful and invited to an interview, be sure to dress appropriately and arrive on time. It's always better to be a little overdressed and early to a job interview. As it's a hands-on job, you may also be required to do a short trial on the shop floor. This is a great chance for you to see what the people and work is really like. Unless you live rurally, you'll probably have a few choices of where you could work as a sales advisor so see what options are out there.
Working for a business where you're interested in the product or service will likely mean you enjoy your job and will be better able to advise or sell the products. But don't worry, this doesn't mean you'll only get a job if you like the products on offer. A willingness to learn and some relevant skills should be enough to land the job. A personal interest is a bonus for your potential employer. In the interview, highlight this interest if you can, and show that you've done some research into their products. This can be as easy as going into the shop beforehand, or looking online, and shows you're eager to get the job.
Any experience that you've had dealing with customers face-to-face, taking payments or money will be useful to highlight in your application. Showing that you're reliable and hard working will also go a long way. If it's your very first job, don't let having no work experience put you off. Full on-the-job training will be provided if you can show you're going to be a good team member.
In terms of career progression within this role, you could aim for a promotion to senior sales advisor. This will mean extra responsibility in the role, such as looking after a particular section or junior members of the team. The next step up the ladder from this may then be to section manager, assistant store manager and then onto store manager. Being reliable, having a positive can-do attitude and great communication skills will help you progress in this role.
If you have no experience, it's a good place to start developing key skills such as communication, problem-solving, working in a team and leadership. Everyone has difficult customers or days when working in retail, try to use it as a learning curve to move forward.
Browse the latest sales advisor jobs
They are now looking to recruit Customer Service Advisor to join their team on a full-time permanent, based at their offices in Derby. Hours: Monday...

* As a representative of the company, you will contribute to the lasting impression a customer will have and so it is important that you...

Following a full 3 weeks of training, this permanent role of Customer Service Advisor will require you to: * Work in our super-friendly Sheffield city...