Stakeholder Mapping
Thinker on management and information systems, Aubrey Mendelow, created a two-by-two matrix of power and dynamism as a method to support environmental scanning. Power is an important axis in the model; whilst we tend to recognize stakeholders with power it is important to understand the sources of power in order to be able to compare it against other stakeholders. Power gives stakeholders the ability to restructure situations2 and can arise in four key ways: possession of resources, ability to dictate alternatives, authority and influence.
Possession of resources provides a significant power base, hence the enduring power of unions in certain industries.
Aligned to this possession is the ability to dictate alternatives: the availability of alternative resources reduces the power of the possessor, equally the sole supplier has the greatest of power.
Authority, the right to enforce obedience, has always remained an important source of power. This could be in the form of government and regulatory bodies, but it is equally found in the bureaucracy of organizations in their ability to hire, pay and dismiss workers.
The final source of power is influence, the ability to sway those who hold power in other ways. By considering stakeholders on the basis of power, we see them in line with Freeman's stakeholder theory that stakeholders are more than simply the business owners.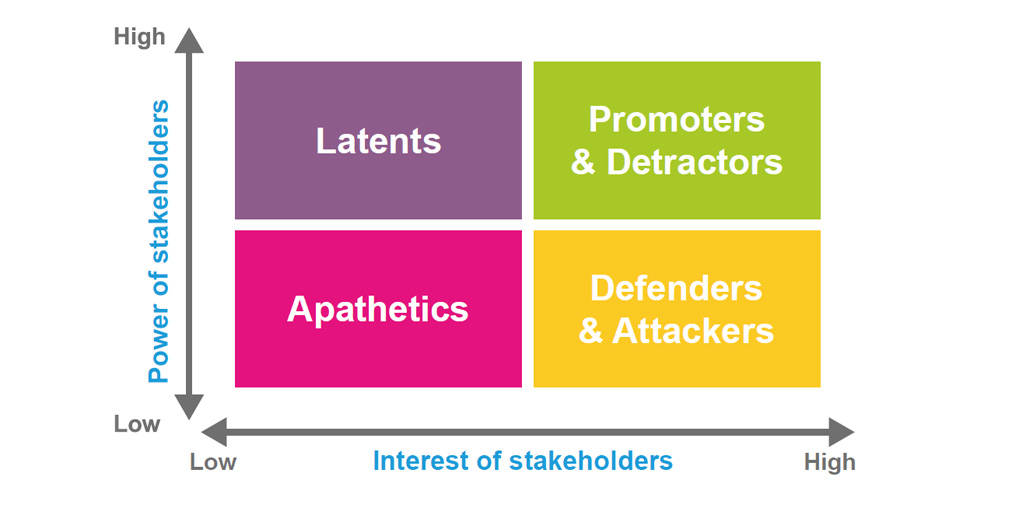 Rather than the second axis of dynamism, Mendelow's matrix is adapted to include interest, to create four specific groups: apathetics, latents, defenders with attackers, and promoters with detractors.
Apathetics have both low power and low interest, those who can be engaged usually through general communications.
Latents have low interest but high power, therefore it is essential their needs are met. With this group it is important to engage and consult on areas they are specifically interested and aim to increase their positive interest. Equally, with activities likely to easily stir angst, it may be more prudent to downplay initiative to reduce the risk of creating attackers.
Attackers have low power but high and negative interest, they fall into the same quadrant as defenders who share low power but have a high positive interest. Defenders are potential supporters and ambassadors. If engaged in the right way, they can be a useful area with which to both consult and potentially involve in low-risk areas. Attackers can reduce the ability of defenders and attract apathetics to their cause, therefore defender become valuable as ambassadors to neutralize negative opinions.
Promoters and detractors are our key stakeholders and where we need to focus our efforts. Both have high interest and power; promoters are supportive and dectractors are negative. Not only must they be engaged and consulted regularly, but they need to be involved (if not already) into the governance and decision-making. The aim is to keep promoters onside and to either convert detractors into positivity, or otherwise neutralize them either through the use of promoters or through creating a groundswell by converting latents.